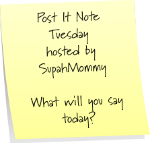 So this past weekend I had not one, but TWO fantastic baby showers. The one Sunday was your typical chicken salad croissant affair... But Saturday night was different! It was the rockin'est, most booty-shakin' baby shower ever! Three of my amazing friends from high school organized the event at this crazy joint nearby called King Tut's... Pictures will follow in the next post. For now, on to the business at hand...
One of the most fun things about King Tut's is the music... sometimes it's kareoke, sometimes it's just get up and dance... And then there is always the music in the car on the way there. So today's post-its feature some lyrics from Saturday night's festivities--
I'm willing to bet you now have one of these stuck in your head.
You're welcome!
Make sure and
LINK
up if you play!