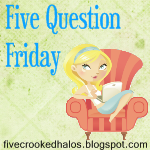 1. Do you have an iPhone and, if so, how do you get apps and what are your favorites?
Nope. I had a BAD experience with a Mac computer I owned and now pretty much avoid the brand... except for my iPod. But I really only use it in the car and when I travel-- I'm not one of these people that walk around with headphones on all the time.

2. What is your fondest memory of K-3rd grade?
I had awesome teachers! My first grade teacher missed a lot of the year b/c her mom was sick-- but then she was my 2nd grade teacher too-- Mrs. Myers! She was great! My 3rd grade teacher was a BLAST-- Mrs. Grantham. I remember we had weekly coloring contests in her room. And a luau at one point.

3. What makes you cringe at the thought of touching?
a SNAKE!

4. If you could have any celebrity show up on your doorstep who would it be and why?
HMMmmm... I think there are a lot of celebrities I would be scared to meet-- just because they do not give off a personable vibe. I think either Ellen or Sandra Bullock would be fun. They both seem approachable and REAL. And I think I would laugh my a$$ off with either!

5. What would you say is your best physical feature?
Probably my smile... I'd say that is what I get the most compliments on anyway...